LEDGER (DecentraLizEd Data Governance for nExt geneRation internet) is a mission-oriented project promoting alternative models that preserve citizens' control over the management of their data, where data is a common good owned by citizens and wealth created by data-driven platforms is equally distributed.
The project, launched in November 2018, aims at shifting data management, leveraging on decentralised technologies and algorithms (such as blockchain, distributed ledger technology (DLT), peer-to-peer technologies, artificial intelligence, internet of things, immersive media and new connective infrastructure as 5G) in 5 pre-selected verticals and one generic strand: #Health #Economy #Mobility #PublicServices #Energy&Sustainability #DisruptiveInnovation
LEDGER supports Research and Innovation projects linked to relevant Vertical Use Cases to develop Minimum Viable Products and services addressing Privacy-by-design, Decentralized Data Governance, reliability, trustworthiness and openness as core human-centric values.
The project builds on Horizon 2020 projects related to data governance such as DECODE, D-CENT and PIE NEWS.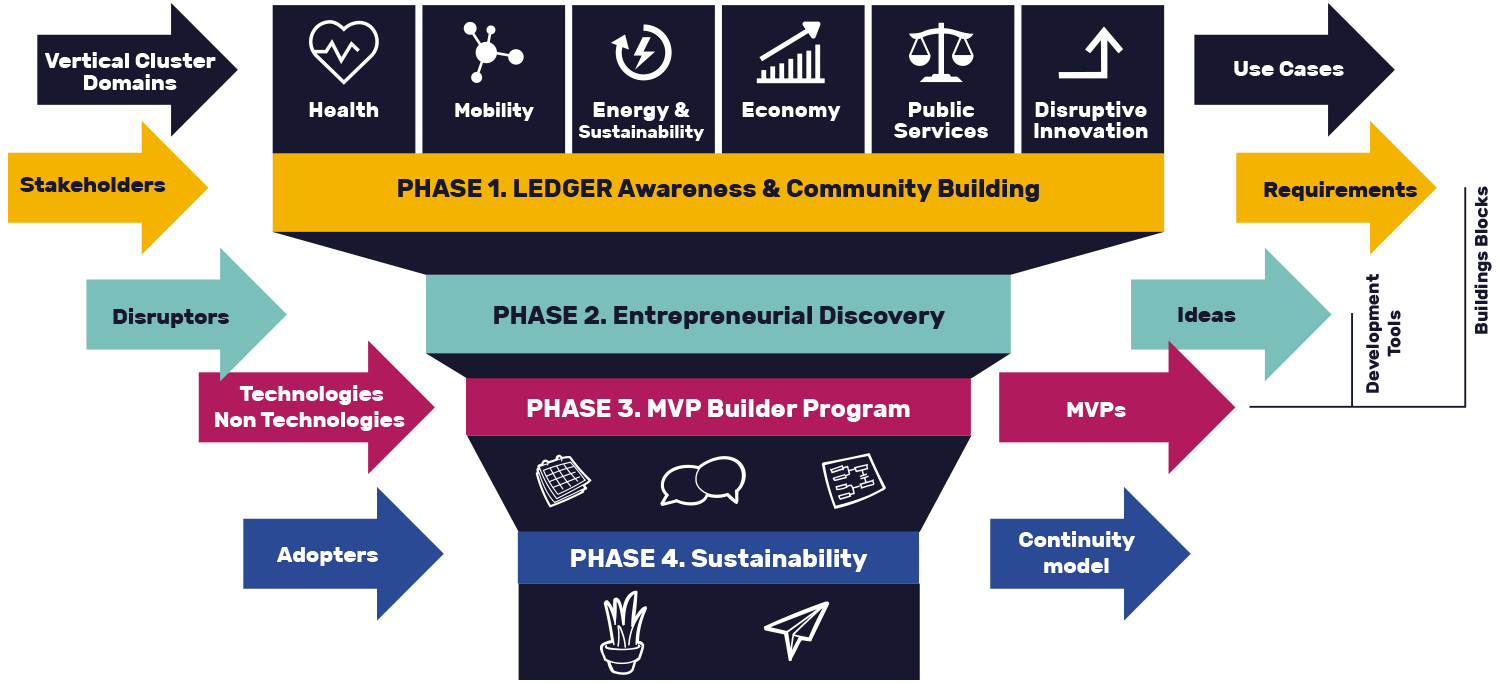 To make its vision reality, LEDGER implemented an ambitious programme consisting of:
A mission-oriented Strategic Research and Innovation work programme
Pan-European attraction of outstanding research groups, hi-tech start-ups and SMEs
Trustable, transparent and unbiased selection of "Human centric innovators"
3 Venture Builder Programs of durations between 6 and 12 months, including equity-free funding, technical and business mentorships, bootcamps, training and demo days.
An expert researcher in residence to support the selected teams along the full programme.
Access to market and support to raise further investment.
An experienced Advisory Board composed of key players:
Advisory Board
Scientific work program
Blockchain implementation
Attract applications to the open call
Select a total of 34 bottom-up experiments via 3 open calls
Venture Builder Programme
MVPs per open calls
Atraction of early adopters
Private Fundraising
Funding Distribution

Venture Builder Programme Service Description
The beneficiaries were provided with access to technical and non-technical support services and technology, helping them evolve their ideas to MVPs within the framework of LEAN-Startup methodology based Venture Builder Programmes of 6 to 12 month duration.
Each beneficiary received a full package of technical and non- technical services by a 'Researcher in Residence', including specialized knowledge in user empowerment, Social Innovation, DLT, Open Software and Hardware, Ethical and privacy issues. Business mentoring towards business plan and fundraising strategy definition and Master Class Training in business management and fundraising.
Supported by the Next Generation Internet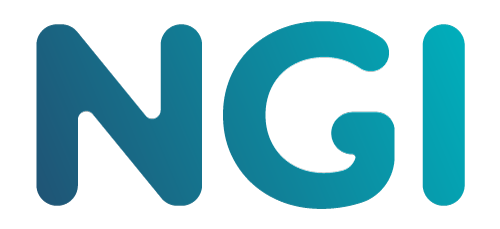 LEDGER Consortium is led by FundingBox (Poland, Spain and Denmark) in partnership with Dyne (Netherlands) and Blumorpho (France and Germany).
LEDGER Supportive Partners